Two new types of lamps are attracting attention through their originality. They get a reaction from everyone and likely raise a smile on some people's faces. One thing is for certain: they make good conversation starters.
Choosing a light fixture today is discouraging for those who experienced the 70s and 80s. They get the impression that they've seen it all before. Desk lamps or plated torchere lamps or lamps signed Stefano Cevoli come to mind. Their pure, long-necked style, which tilt 180° fit very well with today's décor. You can still find these Italian designer lamps on the Internet. Many store models appear to be nothing but pale imitations. You can get a few surprises if you take the time to search the net a little. Here are the two we discovered: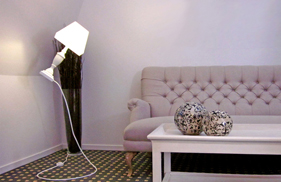 The first lamp literally floats in the air. The great magician Houdini would have been jealous of this very successful illusion by the designer and co-founder of Studio Gvesner. He created the "Phantomenal Lamp of Godrik," which appears in the facing picture. Guess how he went about creating this illusion? The feed wire looks flexible and real doesn't it? In reality it's rigid and shaped by hand to keep its ghost effect. Each lamp is unique and can be adapted to your décor. The magic of the Internet breaks down the walls that separate us from the place where Studio Gvesner was created in Dijon, France.
The second could elicit a value judgment and be qualified as kitsch, except that it also risks raising a few smiles. Those who like the soft texture of a plush toy will be thrilled. Initially white, this LED cushion lamp changes into rainbow colours when "Manon pèse sur le piton"  (Manon puts the pedal to the metal). The colours change slowly. This lamp-cushion adds a little warmth to the contemporary style. It provides a touch of the unusual to your living room. It changes into an original nightlight for baby's room. You could also imagine it in the room of a child ensconced in a world of galaxies and stars.
What do you think?
Sources: Wikipedia, Guesner.com and Deco-insolite.com
Photo: Phantomenal Lamp of Godrik with permission of M. Gvesner.