Here is a description of different types of wallpaper and installation advice.
Traditional wallpaper is a repetitive reproduction of a pattern every 10 to 27'' (25 x 68 cm). A wallpaper mural is made up of overlapping paper widths that form a single pattern that can be up to 36 feet wide (almost 11 metres), according to Muralunique.com.
For the same size, the prices of murals vary between $100 and $1,000 according to the quality of the paper and the glue. Muralunique describes four types.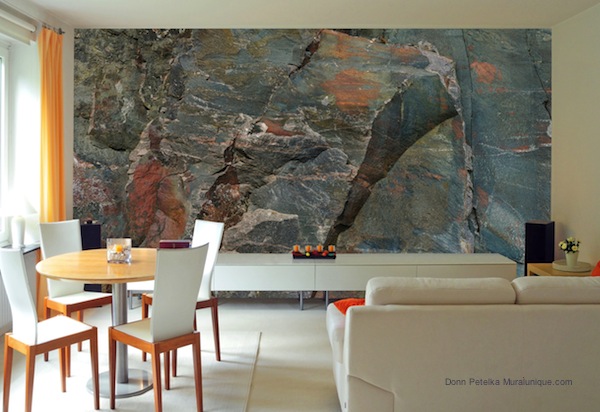 o   Murals on unpasted sheets are not recommended. They are inexpensive, but they crease easily.
o   Prepasted wallpaper murals are more expensive. They are recommended by muralunique.com. They offer several advantages. "The substrate is a blend of paper and synthetic fiber providing a strong and washable product without any PVC (vinyl)." Easy to install, it is dry strippable and can be reused years later if you follow the recommendations.
o   Self-adhesive vinyl murals are twice as expensive as prepasted murals. The difficulty comes in trying to match the strips because there is no slip. Air bubbles are hard to remove. And the vinyl will tarnish after a few years.
o   Heavy vinyl murals are not prepasted and are easy to remove. It is recommended that you hire a professional. These murals are expensive.
Different descriptions of wallpaper are offered on the internationally renowned European site Rasch.de. Christian Schütz, of Rasch, offers you a link to their Ontario distributor Prime Walls (available in Quebec). There you will find three types of luxurious Environmentally touchfeely wallpapers.
For your information, non-woven wallpaper is a synthetic fibre or microfiber based paper compressed with a binder that makes it seem like fabric.
Here is advice from Muralunique.com to install traditional wallpaper and prepasted wallpaper murals.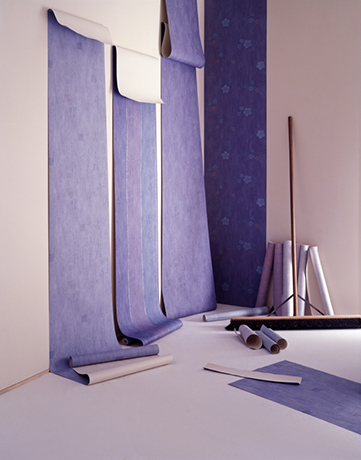 All surfaces must be dry, clean, smooth and well-prepared. Sand bubbles with sandpaper number 100.
Glass, mirrors, melamine, pre-finished siding and ceramic can easily be transformed under certain conditions. It is recommended that two coats of oil-based primer or a coat of B-I-N sealant be applied before starting.
Be careful of freshly painted baseboards, mouldings, etc. Allow them to dry for at least a month. Otherwise drips could leave traces.
A wall painted with latex less than two months ago is not recommended. It will be difficult to remove years later because the paint sticks to the paper. You will damage the wall. Avoid using latex primer. Wait for at least two months before installing wallpaper and follow the instructions below.
For painted walls, especially dark colours, apply a single coat of oil-based primer and wait two days before papering. Better: apply a B-I-N sealant (one hour wait). If you follow these recommendations, you could easily dry strip your traditional wallpaper and/or mural ten years later and reuse them. You don't need to add glue.
For other tips, watch two videos on YouTube by muralunique.com (below) or the Prime Walls website for their three styles of wallpaper or read the instructions provided with the wallpaper.
Information sources: personal experience. French Wikipedia article intissé.
Thanks to Pierre Cousineau of Muralunique.com for video 1 and video 2 on Youtube; to Christian Schütz of Rasch.de who provided us with the link to their Ontario distributor Prime Walls.
Photos : iStockphoto LP et Muraleunique.com