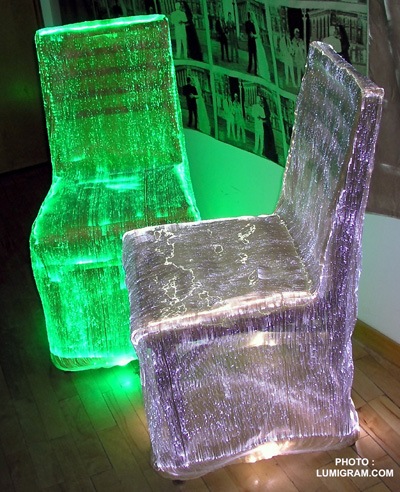 Slowly but surely they are revolutionizing the design world: luminous fibre optic fabrics. These fabrics shine with a thousand lights. And not only is their use unlimited, they also add a spectacular touch to your decor.
The attached images are worth a thousand words. They give you a glimpse of the impact that luminous fabrics can have in a room. Keep in mind that their full effect requires partial or total darkness.
The flexibility of the fabric is quite surprising. According to Renée-Claude Auclair of the Teknolight firm, researchers created fibre optics the width of a hair, then inserted them in fabrics like polyester.
You can buy the finished product as shown in the LumiGram or Teknolight catalogues or order the fabric and give free reign to your imagination.
Luminous fabric can be sewn on a standard sewing maching. Some precautions are necessary however. Never fold the fabric perpendicular to the fibre because the light won't pass through. It must therefore be rolled before storing. You must also plan a border or frame to hide the wiring. Power can be supplied by a mini-transformer or by regular or rechargeable batteries, which must be removed when the fabric is handwashed using lukewarm water and mild soap (follow the manufacturer's instructions).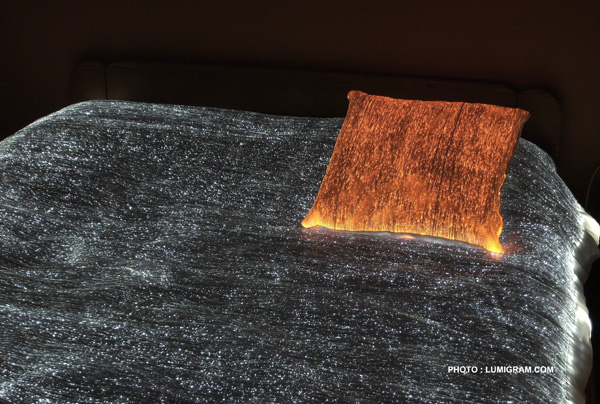 What colour will you choose—red, green, blue, yellow or white? You can choose between a solid coloured fabric or one composed of a sequence of colours.
On LumiGram's European website, Teknolight's Quebec website and on Google images, chairs, cushions, table runners, tablecloths, bedspreads, wall hangings, chair covers, and vases all vividly illuminate the decor.
If you think that a modern and futuristic decor is synonymous with coldness, you're wrong. Luminous fabrics are more like silk. Don't you find that the lustre of the attached grey bedspread brings to mind Frodo's mithril chainmail in The Lord of the Rings?
LumiGram holds a patent on luminous fabrics. Teknolight in Quebec has been one of Lumigram's distributors for several years.
We'd like to thank Jean-Marc from LumiGram SARL for photos and information and Renée-Claude Auclair from Teknolight for information.